Activity: Design a Deck
Alex wants to build a deck for the house.
It should be shaped about like this: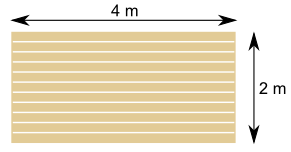 (Choose a different size if you want, maybe to fit a place outside your home?)
Alex can buy some beautiful hardwood, but it is only available in the following sizes:
Width: 90 mm
Lengths: 3.0 m, 3.6 m, 4.2 m, 4.8 m, 6.0 m
Please tell Alex how many of each length he will need.
Note: Be Practical! Think about actually using real boards to make this deck.
Alex can cut the boards into smaller lengths, but not into smaller widths.
Tell Alex if the shape he wants should be changed to fit the boards (but not by too much or it won't fit the house!)
You should order extra boards in case some are bad quality, or Alex makes a mistake when cutting.
Fill out how many of each length are needed:
3.0 m:
3.6 m:
4.2 m:
4.8 m:
6.0 m:
Extension
Another practical thing: you don't want cuts to line up, so having two boards of 3.0m exactly next to each other is bad.
Also try for a different size of deck ... maybe a new and interesting shape?